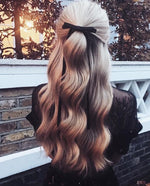 Fall is fast approaching so be ready for the latest hairstyles. Hair fashion is defiantly repeating itself as this year's big trends are heavily influenced by the '90s and early '00s with a 2019 twist. A retro vibe, with many of these styles that are extremely versatile. Here are the top 5.
High Ponytail

High ponytails have always been in style. This is a classic look that anyone can achieve whether it is your own hair or a extension piece. Many companies now sell easy to apply ponytail extensions for a fast and trending look. With or without bangs, the high ponytail look will always be a classic and never go out of style.
  Deep Side Part
Another easy and fast hair change is the deep side part. By just moving your part to the side gives it a fresh new look. You will be seeing a lot more of this look as the fall season approaches.
Statement Braids
Braids will never go out of style and are making a impressional comeback this fall season with a 2019 creative twist. Signature braids bring a elegant look that stands out, keeps your hair secure, and gives you options to many different looks. French braids, braided bangs and braids with ribbons have gained popularity this fall season.
Messy Bun with Tiny Tendrils
The 1990s and early 2000s trend of artfully, but casually piling your hair on top of your head with two or more thin strands pulled out is back. Another easy look to achieve that anyone can do. This look is great because it is so versatile and can be worn practically everywhere. The office, school, the movies or you can add in some hair jewels or ribbons for a more dressy look for that wedding or party you will be attending.
The Hair Bow
Hair bows were everywhere in 2018, and the trend is still going strong this fall. Bows look amazing with virtually any hairstyle, which is why the hair accessory is still so very popular.  Whether you are using a long scarf to hang and flow with you hair, or tying it in a tight bow, to weaving it into a braid or bun, hair bows are a striking and bold beautiful look that can constantly change depending on how you wear it and what colour you choose to match your wardrobe.
Which one is your favorite look for fall 2019?