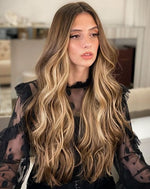 Looking great helps with feeling great. During this difficult time of Covid-19, we know you are missing out on feeling great as the hair salons close.
What can you do? Box colour? DIY hair cut? Try to install tape and fusion yourself?
Instead try instant extensions. Clip In's, Halo's, Instant Bangs, Ponytails.
These are a great way to keep your hair looking great, while we wait out the virus.
As they are human hair you can curl them and straighten them with ease.
Ponytail extensions are a quick and easy way give a little glam without a lot of effort.
Infinitude Extensions carries everything you need while waiting for your favourite stylist to return to the salon.