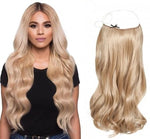 The halo extension is the least damaging hair extension on the market today. Why? There are no clips, tape, fusion or beads.  Halo hair extension can be easily attached to your head with a single piece flexible translucent wire. Halos are customized as per your or your clients head size and takes under a minute to fit. Even though the  halo is one of the easiest to install and is virtually damage free, the halo is not well known among the hair extension users.
Here are some facts about Halo extensions. ​
They are the least damaging extensions for your hair since the halo sits on your hair instead of being attached with glue, tape or beads.
Easy and fast to install and remove.
 
Halos can instantly add the desired volume and length to your hair 

The halo wire totally merges with hair and becomes invisible.
 
Halo extensions stay put! They do not slide off your head if installed correctly. The holding wire along with your natural hair hold the hair tight.

Halo is a perfect hair extension type for the those new to extensions.
You only want to wear hair extensions on special occasions (prom, weddings, and fun nights out.