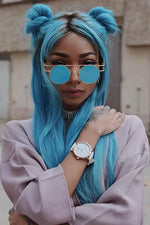 Its 2020 and spring is around ther corner. Pastels, flowers and hair jewelery are but a few creative themes you will see in the spring season.  Check out these 2020 spring trends. 
Braids, Braids & more Braids
A popular look in the 90s is back with a new 2020 twist. You can never go wrong with having a braid but what about braided tendrils, braided bangs or bun. One single braid hanging off to the side or a full head of braids. The benifits to wearing braids is the simple but elegant look they bring with them. Beautiful braids are not just for weddings but for everyday no matter what you are doing in a day. 
Bright Shades of Beauty
This spring, be prepared to see pretty much all of your favorite influencers playing around with bright hues in their hair. Who doesnt want bright beautiful colour? This look is best achieved by visiting a salon professional. If you don't want to go permanent, you can always invest in a wig or try a semi-permanent dye colour. Show off your inner princess!
Finger Waves Galore
Finger waves are top when it comes to vintage style. This 1920's feel is back bigger than ever in the new 2020 age. This elegant and timeless look is glamour. Finger waves can be a bit tricky and there are many different ways to achieve this look. The two easiest and fastesr ways:
The French Way
Use a curling iron and a comb to create ridges. Hold the hair with a comb, insert the iron, push upward to the desired ridge, do not pull, release and continue.    
 Waves on Medium or Long Hair
Using a styling wand, curl the hair in small sections, with the barrel pointing down. Curl every section in the same direction, and clip to set. Once cooled, release curls and backcomb gently underneath each wave. Clip to set waves in place. Finish by releasing the clips and refining the waves with the end of a pintail comb.
 Hair Combs & Pieces

Jewel-encrusted flowers, strings of crystals or beads, and even fashionable headbands create an air of elegance this spring 2020 when it comes to decorating your hair. You don't have to spend alot of cash on this hair trend. Play around with different jewelry & gemstone pins. Make a fun project out of it and express your look by making your own. You will be set for the spring season.
 That 60s Style
Whether it be a short bob, a bee-hive, blunt baby bangs or an up-do, the vintage 60s hairstyles will be seen flaunting everywhere this spring. This hair decade has become the newest trend in 2020. Choose a classic look in today's modern world and enjoy!