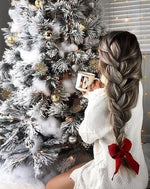 December is a time for celebrations; it is also a time when your hair goes through a major seasonal transition and becomes most prone to dryness & frizz. Is there a way to protect, manage and control your precious strands without compromising on style? There sure is! Here are 5 hairstyles for the month of December for you to take inspiration from and look your stylish best this holiday season.
Contoured Long Bobs
Symmetry is key for this category of long bob hairstyles. While the length of the bob hits the collarbone, the sleek, straight side sections contour the face beautifully and help to draw attention to the cheekbones. You can easily sport this bob hairstyle under a hat as well.
A contoured bob flatters round, oval and square face shapes. It looks best when worn pin straight. Wear it with a middle part or a sweet set of blunt bangs to induce some drama in your hairstyle. To make your hair look straight & shiny, spritz some strand smoother serum spray all over after flat ironing.
Slick Swept-Back
A slick, swept-back hairstyle ensures that your face is the center of attention at all times. This simple, yet highly sophisticated hairstyle works for every woman, irrespective of her face shape and can be created with medium length straight to wavy hair.
Spritz some heat protectant hairspray all over your tresses and use a paddle brush to guide your strands downwards while blow-drying to achieve a flawless, straight blowout. Trace out a side part using a tail comb, neatly sweep back your hair on both sides and tuck the side strands behind your ears. Finally, dab a tiny amount of hair styling gel on your tresses to lend them a superior hold and a soft, shiny finish. The product will also help to control flyways, without weighing your hair down or making it look too greasy.
Textured Hair with Bangs
If you're growing your hair out and are looking for an effortless hairstyle to sport during the holiday season, textured hair with bangs will be right up your alley. This is a perfect winter hairstyle that you can pull off under a beanie or a bobble hat all through December. Adding texture will make your hairstyle look fresh and modern.
Work in a tiny amount of deconstructing gum over the top layers of your hair and finish using your fingers. Or, spritz your hair with some hairspray and create loose waves that'll look fabulous even under a hat. Pair your December hairstyle with wispy or blunt, eyebrow skimming bangs to look hot during the cold season!
High Ponytails
No one can get enough of high ponytails that can be dressed up or down to suit just about any occasions. Perfect hairstyle to sport with turtlenecks, a high ponytail can instantly glamorize your look, while keeping your lovely locks off your face and back.
Whether your long hair is straight, wavy or curly, a high ponytail can be your signature hairstyle all through December. Wear your high pony au naturel; curl the ends to create a retro' do or add some volume by back brushing the lower layers to get a chunky ponytail that oozes style and fun. Spritz some hairspray to set your hairstyle and you're ready to party from dusk till dawn!
Flipped Updos (Fake a Short Hairstyle)
Sporting a chic, short hairstyle without actually cutting your hair! Create a deep side part, tie your hair in an up-do, leaving out a small section of your front hair loose and flipping it all to one side to create this glamorous party worthy winter hairstyle.
A flipped hairstyle looks like a half hawk and works even better if your face-framing hair is trimmed in layers. Set your hairstyle with a generous spritz of hairspray, put on your winter hat (or not!) and head out in style!