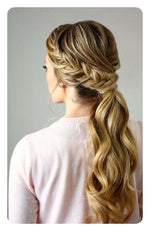 Spring is around the corner. With that comes many fresh new looks and modernized classic looks. Whichever look you decide to try, you will make a beautiful bold statement everywhere you go.
Braids
Braids are really taking a comeback this 2020 spring season. The braid is a classic look that has been around for centuries. So why is this look still so popular today? Because of how easy and versatile it can be. Loose braid, side braid, multiple braids, braids with ribbons, braids with headbands, jewelery, and even flowers give you the freedom to wear a different braid daily if you choose with a constant fun and creative change up.
Thick braids and fishtail braids with a 2020 modern twist leaves them looking extra thick with adding multiple layers. Add some colourful seasonal ribbons into the braids for a fresh fashionable look. Be creative!
 Ponytails