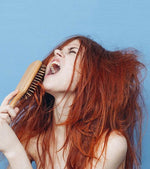 Hair Extensions are an investment, and it's crucial that you take care of them. You need to develop a regimen that will keep your extensions looking gorgeous. Matting and tangling is a normal occurrence with not just your natural hair but with all types of hair extensions. A common reason why extensions tangle and get matted throughout the day is a combination of sweat, heat, friction, lack of constant brushing to name a few. Also, keep in mind that when human hair are constantly moving around, it's going to matt or 'clump' together in pieces.
Matting is where your extensions cluster around the scalp forming bonds that are intertwined. If you aren't brushing your hair consistently, you're giving the hair the opportunity to form into a cluster forming a big matt. The elements around you including enviroment, products, amount of hair, activities all play a factor into tangling. 
Failure to brush your extensions regularly is one of the major causes for tangling and matting. It's important that you brush your hair extensions daily. Run your fingers through the extensions and separate the bonds, make sure there are no tangles. it is recommended 2-3 times a day making sure you're working from bottom to top to avoid matting and breakage.
Sleeping in wet hair extensions is a definite no no. Before going to bed, make sure that your extensions are dry. You should also secure them in a braid and sleep on a silk pillowcase. Sleeping with wet hair extensions will cause the extensions to tangle and matt. Wash your hair extensions when you have enough time to dry them before you sleep. Make sure you air dry your extensions for longevity. 
Installing the wrong extensions and using the incorrect care products will also cause the extensions to dry out, tangle and matt. Products that contain sulfates and alcohol will strip the moisture out of your hair and cause the extension to dry out.
The most important advice when it comes to keeping you hair extensions tangle free is the installation and the quality of the hair extensions. Make sure when booking your appointment that it is with a professional.  Make sure the extensionist has had much experience with all installations.  Ask lots of questions. Ask about the hair being used in your head. Which is just as important. Even if your stylist is a pro at installing hair extensions, its pointless if the hair is not the best quality. It will tangle and matt on you which will cost you even more money to have taken out and replaced. Its an investment.  Do your research!