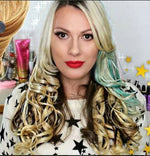 Valentine Lewis from Beauty by Valentine styles Infinitude Extension Bar Ash Lightest Blonde (#60) Halo 20" Extensions. Valentine used "Hollywood Waves" as her inspiration for her hairstyle. Here is a recap from Valentine's tutorial and review. Continue reading for some pro tips on styling hair extensions with hot tools!
VALENTINE'S PROS:
Best blonde colours: Top quality and long-lasting blonde hair extensions are hard to find. That's why Infinitude Extension Bar carries 12 blondes so that you can match your hair as close as possible!
Easy styling: Our hair extensions work fabulously with hot tools. Infinitude Hair extensions are able to hold curls and styles easily because we emphasize using healthy hair and avoid using excessive amounts of silicone coating. Silicone can make hair extensions feel soft and smooth in the short run but overusing silicone can make styling with hot tools harder. Also, silicone coating eventually washes away, so make sure you invest in the best hair possible with Infinitude Hair!
INFINITUDE EXTENSION BAR PRO TIPS:
Styling Extensions with Hot Tools
At Infinitude Extension Bar, we have one go-to saying for anyone that wants advice on how to care for their extensions: Treat your extensions as if they were your own hair! We are confident that if you care for your Infinitude Hair extensions properly using our Hair Extension Care Guide that our extensions can last you up to a year. Here are some tips regarding styling extensions with hot tools: 
Use a heat protector product on your extensions before you use your hot tool on them. Avoid products that use silicone in the ingredients list.
Ceramic-plated hot tools are the safest for your hair. Since ceramic-plated tools are coated, they prevent the hair from easily burning compared to other hot tools.
Don't use hot tools on your hair excessively. We recommend using hot tools on your extensions for a maximum of once per week. Just like your natural hair, your extensions needs time to breathe!
Conditioner and hair masks are your friends. Treat your hair to a treatment every so often to improve the longevity of your luscious locks!
Want your own Infinitude Hair Halo Extensions?
Thank you Valentine! We loved your hair styling tutorial and Infinitude hair extension review. #sheepysheep
Have a question about hair extensions? Feel free to comment below or email us at service@infinitudeextensionbar.com to let us know what's on your mind.