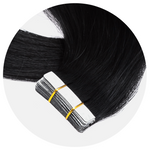 Benefits Of Tape-In Hair Extensions:
They Are Less Damaging Than Bead Or Fusion Hair Extensions – The tape-ins don't cause damage to your hair, plus they will keep your hair full and voluminous while your real hair grows underneath!
They Can Be Used Numerous Times, Unlike Fusion Hair Extensions – As long as you take proper care of your hair, your tape-ins can last 3-4 reapplications!
They Are Quick To Put In And Remove – Unlike fusion extensions that can take hours, tape-in extensions take less than an hour to apply!
They Tangle Less Than Fusion Extensions – Since the wefts are thicker than fusion extensions, they are less likely to tangle and easier to brush.
How To Care For Tape-In Hair Extensions:
Wait 48 Hours Before Washing Your Hair – Not getting your hair wet for 48 hours will allow the tape-ins to fully bond.
Avoid Conditioning The Bonds – Too much conditioner and hair treatments can start to break down the bonds, so conditioning your hair from mid-shaft to the ends will help prevent this and make your hair last longer!
Use A Wet Brush or Detangling Brush To Avoid Tangles – Do not be afraid to gently brush over the bonds. You won't rip them out or damage your hair when gently brushing over the bonds. When you don't brush over the bonds it can cause tangles underneath the extensions – you do not want that! A Wet Brush is gentle enough to brush through the extensions and will prevent tangles! Doing this at least twice a day will prevent tangles and keep your extensions easy and stress-free. We suggest to hold the bottom of your hair and start from the bottom and move to the top, that way you can control the amount of pull on your ends. Every so often, take a comb and brush each individual hair extension.
Limit The Amount Of Times You Wash Your Hair A Week – Not only will this help lengthen the lifespan of your extensions, it will also make your life easier! Hair extensions take a lot longer to dry, so limiting the amount of washes will help speed along your daily routine.
Limit The Heat – Using a curling iron or straightener everyday can really break down extensions, so try to limit the amount of heat you use on your hair. It is better to wash and style your hair extensions 2-3x per week.
Sleep With Your Hair In A Braid – Since tangles are really bad with extensions, pulling your hair into a braid before bed will keep your hair tame and be styled in the morning! Also, try avoiding sleeping with wet hair.